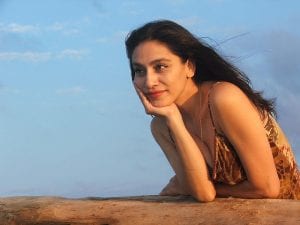 We're here to tell you that you don't have to over think it or over do it when it comes to your daily skincare routine.  Just a couple of quick and easy steps in the morning and at night is all you need.  Doing it every day though is the key to seeing visible improvements in the condition of your skin.  Here is an easy Keep It Simple Skincare routine for you to start today!
Being consistent and persistent is the key.  It's your daily skincare rituals that will give you long term results and when you feed your skin with pure organic botanicals made into potent formulas then you really can have your best skin ever!
STEP ONE is to CLEANSE – both morning and night.  We recommend you use a gentle creamy or milky cleanser to effectively emulsify and remove dirt, impurities, dead skin cells and make-up.  Having a clean skin helps to prevent blocked pores and infections and of course provides a clean surface so that your skin can absorb the goodness in the products which you then apply.  A good quality cleanser should be able to remove eye make-up too, making for a quick and easy first step in your routine.  The WILDHEART [wellbeing] ULTIMATE Creamy Cleanser fits the bill beautifully.
STEP TWO is to apply your ACTIVE SERUM – both morning and night.  Once upon a time this second step was to use a Toner, however we recommend you apply your Serum so that all the amazing active ingredients go straight into your clean skin.  Serums can be game changers to improving the condition of your skin.  Designed to target specific issues, get ready for Serums to become your new best friends.  Look out for Serums which are dose effective (ie they contain the correct dose of active ingredients) to really make a difference to the structure of your skin.
STEP THREE is to moisturise – both morning and night.  Hydration and moisturisation are two key factors to a healthy, youthful looking skin.  So, apply a top quality moisturiser that easily penetrates the skin and which absorbs quickly and easily.  An "active" moisturiser is a wonderful bonus for your skin because it offers another layer of goodness.  WILDHEART [wellbeing]'s best selling C THE CHANGE Vitamin C Cream is the perfect daily moisturiser for all skin types.  And the TURN BACK TIME Night Cream is hard to beat when it comes to an impressive ingredients list for nourishing and hydrating your skin.
STEP FOUR is to apply your Eye Cream – both morning and night.  Because the skin around the eye area is so fine and delicate it needs special attention.  A couple of things to consider is the way you apply an Eye Cream and what type of Eye Cream to use.  Firstly, using your ring finger, apply a small amount of cream by patting it into the skin from the outside corner of your eye, under the eye socket and then up over the eye lid.  Repeat this gentle motion a few times until all the cream is absorbed.  Because this area is prone to lines and wrinkles, choose a top quality Eye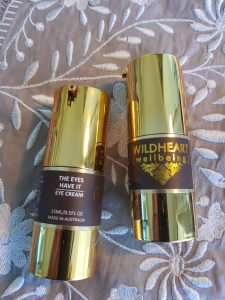 Cream containing ingredients such as Hyaluronic Acid and Vitamin C to increase the water retention of the skin to plump it up, so to speak.  Plus, the inclusion of plant peptides such as Argireline and Matrixyl 3000 will gently and naturally relax the muscles in this area reducing the wrinkling of the skin.
STEP FIVE is to hydrate – both morning and night + throughout the day.  Similar to a toner, using a Hydration Mist (which should never contain alcohol) is a wonderful way to refresh, refine and rehydrate your skin.  Spraying a Hydration Mist over your face as the last step of your morning and night time routines and throughout the day over make-up can help deliver some beautiful ingredients into the skin.  A purse-size Mist is a handy companion to help you rebalance and revitalise your skin.  The aromatic fragrance of a good quality floral and botanical Hydration Mist can also have some wonderful benefits to lift your energy levels and balance your general wellbeing.
So there you have it – A KISS from us to you!