YOE ARE WHAT YOU EAT! Do you want a glowing skin? lets take an informative tour with me!
This is one of my favorite "go-to" made-up recipes that are quick and easy, and a great winter dish for any occasion.  The added bonus is that it's highly nutritious.  In fact, you could say that this warm salad is a nutritional powerhouse full of vitamins, minerals, fiber, and antioxidants, making it good for you on the inside and outside – meaning your skin and hair will benefit from this yummy goodness, too.
It's delicious on its own … but also makes a wholesome accompaniment to seafood, chicken, steak or lamb as well as being perfect to have with other salads, like a gorgeous garden salad, Greek salad or crunchy coleslaw.
The combination of eggplant, broccoli, baby spinach, and sweet potato, mixed with the goodness of walnuts, mixed seeds, and the Tahini Dressing makes it the perfect "go-to" dish for lunch or dinner and is a "must-have" recipe for beautiful glowing skin.  It's full of goodness, yumminess, color, and crunch!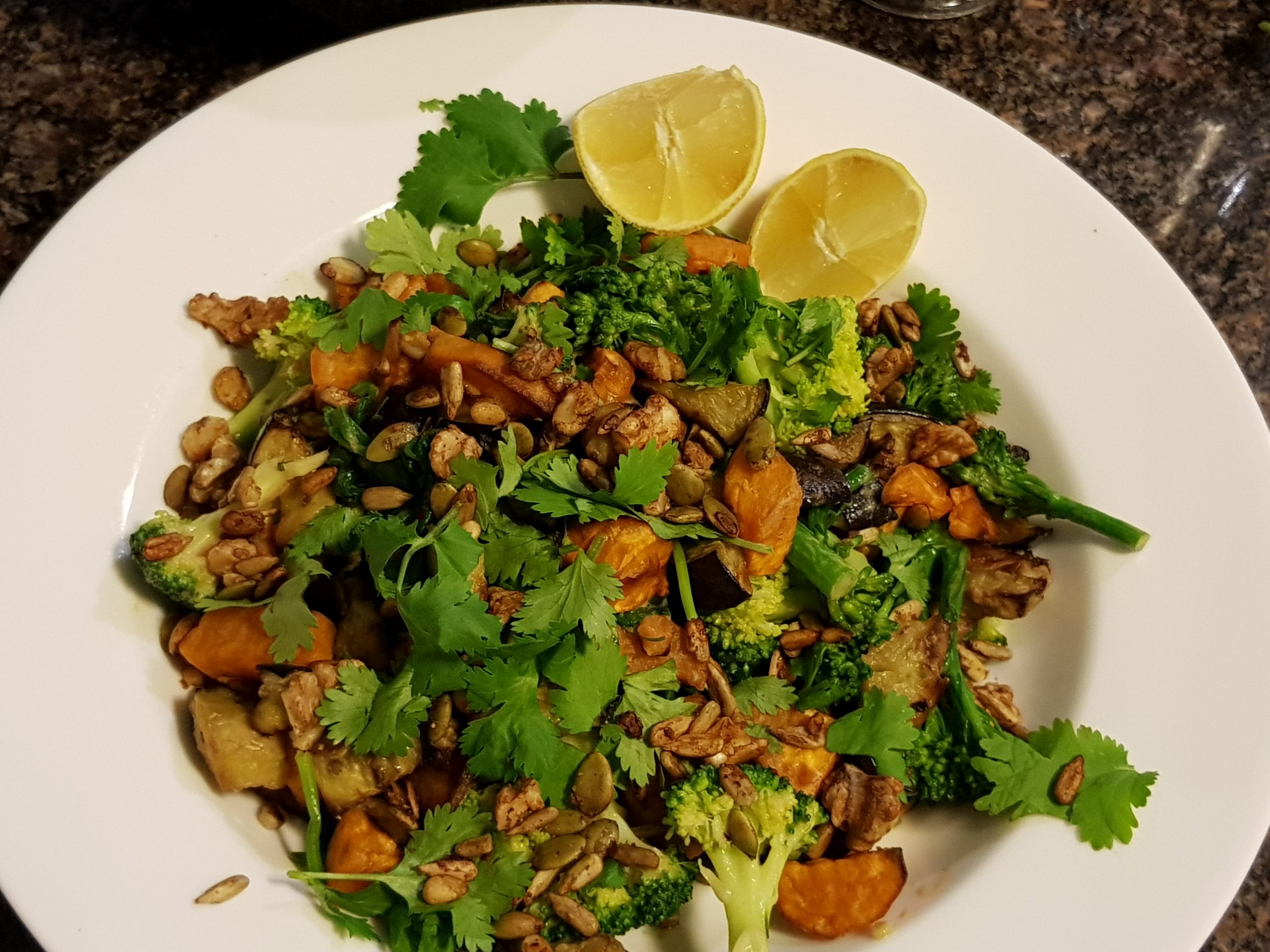 MY EGGPLANT, SWEET POTATO, BROCCOLI
AND WILTED SPINACH WARM SALAD
This warm salad is a nutritional powerhouse full of vitamins, minerals, fibre and antioxidants.

Broccoli is a great source of vitamin C, a good source of vitamin K and contains vitamin A, vitamin B9 (folate), potassium, phosphorous, selenium, protein, carbs and multiple potent antioxidants.   Eggplants are also rich in antioxidants, vitamins and minerals as well as being high in anthocyanins, a pigment with antioxidant properties than can protect against cellular damage.  Sweet potato and spinach leaves are associated with many health benefits.  Walnuts are deliciously dense with healthy essential fatty acids and proteins. The natural fatty acids and vitamin E present in these nuts also help increase skin hydration levels.   Walnuts boost vitamin B levels, helping you keep wrinkles and fine lines away. The mixed seeds contain omega-3 fatty acids and numerous antioxidants which help to reduce the odds of distressed skin.  And to top it off, fresh lemon juice, Tahini and coriander leaves all add nutritional value to assist with a beautiful, glowing skin.
Ingredients
1 eggplant, chopped into 1" cubes
1 sweet potato, peeled and chopped into 1" cubes
1 head of broccoli, cut into florets
1 large handful of fresh baby spinach
1-2 tablespoons olive oil
Sea salt and cracked black pepper, to taste
3 radishes, thinly sliced
Fresh coriander leaves
Lime or lemon juice, to taste
Tahini Dressing
1 tablespoon Tahini
1 tablespoon gluten-free Tamari
Juice of ½ lemon
1 tablespoon water
Walnut + Seed Garnish
A handful of crumbled walnuts
¼ cup mixed seeds (sesame, pepitas, sunflower)
½ tablespoon gluten-free Tamari
Pinch of dried chili flakes
Method
Place prepared eggplant and sweet potato onto the baking tray and drizzle with olive oil.  Cook in a preheated oven at 190 degrees Celsius for approx 25 minutes.
Steam the broccoli, adding in the spinach to cook at the last minute.
Make the dressing by mixing all ingredients into a smooth paste.
Make the Garnish by mixing all ingredients together, place on the baking tray and roast in the oven for about 3 minutes.  Allow cooling.
Spoon all cooked vegetables into a serving bowl, sprinkle with Walnut + Seed Garnish and serve with Tahini Dressing.
To serve, garnish with coriander leaves.
For added zesty flavor, squeeze with fresh lime or lemon juice, to taste.
Packed with plant proteins, this warm salad is full of goodness and yummy flavors. And, of course, always tastes better when made with love.