[fusion_builder_container hundred_percent="no" hundred_percent_height="no" hundred_percent_height_scroll="no" hundred_percent_height_center_content="yes" equal_height_columns="no" menu_anchor="" hide_on_mobile="small-visibility,medium-visibility,large-visibility" class="" id="" background_color="" background_image="" background_position="center center" background_repeat="no-repeat" fade="no" background_parallax="none" enable_mobile="no" parallax_speed="0.3″ video_mp4="" video_webm="" video_ogv="" video_url="" video_aspect_ratio="16:9″ video_loop="yes" video_mute="yes" video_preview_image="" border_size="" border_color="" border_style="solid" margin_top="" margin_bottom="" padding_top="" padding_right="" padding_bottom="" padding_left=""][fusion_builder_row][fusion_builder_column type="1_1″ layout="1_1″ spacing="" center_content="no" link="" target="_self" min_height="" hide_on_mobile="small-visibility,medium-visibility,large-visibility" class="" id="" background_color="" background_image="" background_position="left top" background_repeat="no-repeat" hover_type="none" border_size="0″ border_color="" border_style="solid" border_position="all" padding_top="" padding_right="" padding_bottom="" padding_left="" margin_top="" margin_bottom="" animation_type="" animation_direction="left" animation_speed="0.3″ animation_offset="" last="no"][fusion_text]
-WILDHEART WELLBEING
Did you know that the skin is the largest organ of the body?  Well …. It is and it's the only one we have (except that the skin does replace itself every 21 days).  Nonetheless, it's important that we care for and protect this outer layer of our body.
The condition of our skin can be compromised for several reasons, including harsh climatic conditions, exposure to free radicals, poor health and wellbeing, inadequate sleep, poor diet, high stress levels, inferior skincare products, consumption of alcohol, use of prescribed and unprescribed drugs. The list goes on!
It's important to love the skin you're in.
"A quick and easy way to see some great results that you'll love … is to exfoliate" Wildheart Wellbeing
Exfoliation involves the removal of the oldest dead skin cells on the skin's outermost surface.   At medical spas and skin clinics advanced techniques such as microdermabrasion and chemical peels can result in effective exfoliation.  At our Total Health + Skin Rejuvenation Clinic in Perth, Western Australia, gentle exfoliation is preferred and a DIY method is highly recommended.
For an all over body exfoliation we recommend the beautiful MgBody Kickass Lemongrass and Coffee Scrub.  Made with Coffee from Byron Bay, Magnesium, Coconut, Macadamia and Jojoba with the delicious and invigorating pure essential oils of Lemongrass, Lime and Grapefruit.  Suffice to say, it smells heavenly.
Acupuncturist, Massage Therapist and Co-founder of MgBody, Tracey Fripp, says "You'll not only feel your muscles relax after a long day at work or hard workout, but the Magnesium Chloride (Magnesium Oil) and Magnesium Sulphate (Epsom Salts) are known for their detoxing and skin rejuvenation benefits".  She adds "It's great for dry and scaly skin and for flaky or itchy skin.  Get scrubbing and your skin will be soft and moisturized in no time at all".
It's easy to use in the shower, just rinse your skin, rub the MgBody Scrub all over your body, rubbing in circular motions especially over dry, problem areas.  Leave on for 5-10 minutes then wash off.  And voila!!
Next …
For a gentle and highly effective face exfoliation we recommend the introduction of the WILDHEART wellbeing A MUST HAVE Vitamin A Serum to your daily skincare regime.  Retinol (Vitamin A) is an active and effective ingredient that promotes skin cell renewal which in turn reveals a healthier, more youthful looking skin.  Containing 2.5% Retinol, this active serum reverses free-radical damage that otherwise causes skin to age.   We've formulated the Vitamin A Serum with other ingredients like Hyaluronic Acid and Organic Aloe Vera, Organic Jojoba Oil and Organic Green Tea to target and improve the toughest skin concerns such as stubborn wrinkles, loss of volume and firmness, plus uneven skin tone.  It really is a winning formulation designed to impress.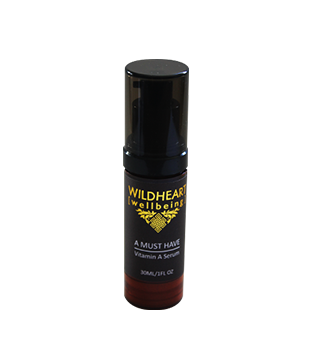 To be honest, every woman should be using Vitamin A in her skincare regime.  It is important though to introduce this powerful and effective ingredient gradually.
As per the WILDHEART [wellbeing] A MUST HAVE Vitamin A Serum directions for use, we recommend that you dispense just one pump and "Apply lovingly knowing that your real beauty is your grace and kindness.  At night, spread over face + neck twice/per week for 1 month, then every 2nd night.  Cease use if pregnant or breastfeeding.  Daily sunscreen recommended."  Then follow with C THE CHANGE Vitamin C Cream or your favourite night cream.
A MUST HAVE Vitamin A Serum also contains soothing Chamomile, Witch Hazel, Wheat Germ Oil, Vitamin E, Wildcrafted Resina Propoli and Love amongst other natural ingredients.
Follow this expert advice and discover how you, too, can Love the Skin you're in.
Please feel free to contact us with any enquiries about WILDHEART wellbeing skincare. You can reach Tracey Fripp at mgbody.com.au
[/fusion_text][/fusion_builder_column][/fusion_builder_row][/fusion_builder_container]